4t HIT Mail Privacy LITE 1.01 - Protect your confidential email in seconds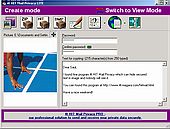 There is no doubt that even with conventional email protection, there are unscrupulous people who can and will, intercept and read emails. 4t HIT Mail Privacy Lite provides a quick and easy way of protecting your communications by embedding your text into an image, combined with a particularly strong encryption method, you can be assured your mail is safe.
Use any image on your PC, from a pleasant lanscape image to your latest birthday photo, HIT Mail supports a wide variety of image formats and is extremely easy to use.
Main Features
Creates and reads text messages that are encrypted and hidden in photos and other computer images
4t HIT Mail Privacy uses a strong encryption algorithm (128 bit) combined with the embedding of your message in an image for an extremely safe method of communication
Supports most popular computer image formats (JPG, GIF, TIFF, BMP, etc)