4t Calendar Reminder MP3 2.27 - receive a reminder using sounds, video and emails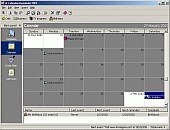 Have you ever forgotten a birthday? Missed an anniversary? Had to pay a fee for missing a dentist's appointment?
Never miss an important event again with 4t Calendar Reminder MP3. Simply enter the event information and as it approaches, you can be reminded with a message, email, sound or video (MP3, WAV or CD Audio). It can even open a specific application, open a web page or other document. Its MS-Office based interface means that you will be organizing your coming year in no time.
Main Features
Easy to use MS Outlook-like interface. Fully customizable calendar fonts, colors and view. See screenshot...
Customizable event Templates. Simple to use templates mean entering information is quick and easy, and you can see all of your upcoming events in moments. See screenshot...
Rich actions for reminding. Calendar Reminder can remind you of events by showing an alarm message, playing sounds (MP3, WAV, CD Audio) and videos, launching a specific application, sending E-mail and opening Web pages and other documents. See screenshot...
Add complex condition for repeating events. Calendar Reminder allows to add simple and complex rules for repeating events. See screenshot...
Any complex condition for reminder before events. Program allows to specify any complex reminder before event and determine actions group for it. See screenshot...
Rich event options. For each event you can specify unique icon, colors of alarm window and other options (for example, age calculation, and will tell you a persons age). See screenshot...
System tray icon and hint window with upcoming events. See screenshot...
Preview and print calendar and event list
Filtering events. See screenshot...
Holidays. The holidays of over 20 countries are available for import into full registered version.
Import and Export feature
Backup and Restore feature
Using WinAmp to play MP3 files. 4t Calendar Reminder MP3 includes internal MP3 player. But it allows to use WinAmp for playing MP3 files.
Fully customizable views. You can customize colors, fonts, event's view settings, hotkeys and other behaviors of 4t Calendar Reminder MP3.